Moldova
Regular Series Plates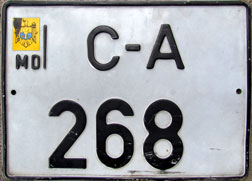 Transnistria Region Plates
The Pridnestrovian Moldavian Republic (also known as Transnistria) is a breakaway territory located in eastern Moldova between the Dniester River and the border with Ukraine.
It declared independance from Moldova shortly after the break-up of the Soviet Union.
After a brief civil war it has operated independently from Moldova although most of the world community does not recognise its independence and considers it to still be part of Moldova.
Transnistria has its own government, currency and license plates.






Back to The License Plate Gallery

Last update: 12 September 2012